Tailor the airflow on your Africa Twin to suit your individual height, riding stance/clothing, combined with the noise characteristics of your helmet and your typical cruising speed...
This advanced design of Touring screen has a uniquely mounted spoiler at its rear edge which,without the use of tools, can easily be adjusted into one of seven positions to suit your (and your passenger´s) needs.
Positioned on the top rear edge of the screen for maximum effect, the air current is spread out and slowed down, virtually eliminating turbulence.
The result is airflow deflected away from the rider to allow a more relaxing, upright riding position, at high speed on long trips.
Your passenger can also benefit from the improved airflow as the spoiler position can be adjusted to suit their needs too.
Easily adjustable in height and angle by hand - with no tools required - the award-winning, ergonomic and complete MRA Vario-Touring Screen with Spoiler, has seven-positions enabling you to alter the airflow directed towards you to reduce turbulence and buffeting, improve your comfort and vastly reduce rider fatigue on - even the longest journeys.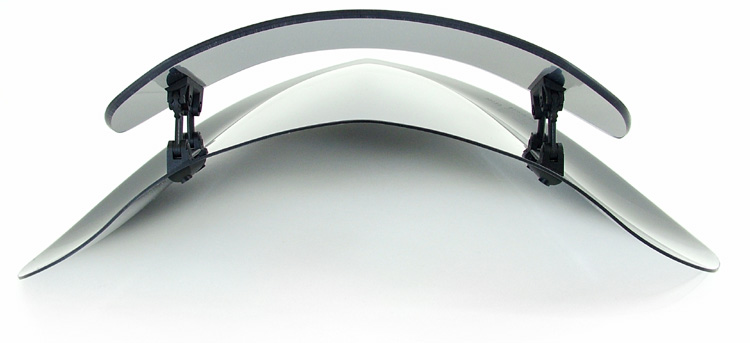 The problem
Almost every biker has experienced wind pressure, turbulence, buffeting and noise. The question is, though, which is the lesser of the evils?
The reduction of one problem provided by many screens often means an increase in one of the others, depending upon the height of the rider, the helmet they wear, their type of clothing and even whether they carry a passenger or not.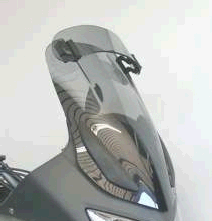 The '7-in-1' solution
To combat this, MRA has developed the first screen designed to give riders the chance to tailor their bike's wind cheating characteristics to suit their own needs, the 7-way adjustable Vario-Touring Screen.
This is a development of the World renowned full-size MRA Vario Screen - developed for high end tourers – designed to offer the same wind-cheating benefits for fatigue-reducing, high speed, long distance rider comfort.
How it works
The Vario-Touring Screen has an easily adjustable (no tools are required) spoiler near its upper edge, which can be set in seven different positions in terms of angle and height to reduce tiresome turbulence and wind noise. Because the spoiler sits on the screen, the air flow is fanned out and becomes virtually turbulence free. The diffuser effect is increased by putting the spoiler on end because the angle and and the distance are increased at the same time. This technique makes the air flow in such a way that it is possible to have a good relaxed ride at high speed for long stretches.
Other benefits
MRA screens are manufactured from a unique and specially developed material - used by no other screen manufacturer - with the following ideal and unique combination of properties.
• Shock resistant and shatterproof - to minimise the chance of breakage from the impact of stone chips etc.
• Rigid - to retain its shape and avoid distortion under extreme wind pressure and high temperatures
• Safer - in extreme circumstances should it break, the resultant edges are not sharp
• Resistant to most chemicals - including Petroleuml/Gasoline and Alcohol etc.
• UV (sunlight) resistant - for at least ten years to avoid dulling or clouding